Event Calendar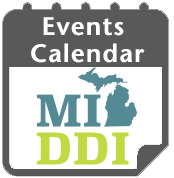 The MI-DDI Training and Events Calendar has the training events, conferences, talks and other opportunities being hosted or sponsored by MI-DDI. If you have any questions regarding a specific event please feel free to contact the person listed under each event or MI-DDI at middi@wayne.edu.
You can also stay up-to-date with all of MI-DDI's events and training activities by signing up to receive our monthly e-Newsletter!
---
---
---
---
MI-DDI Events
TUES | APRIL 9
MI-LEND Module 14 Zoom Session
5:30 p.m - 7:00 p.m | Interdisplinary Training Webinar | *Note: For MI-LEND Trainees, Faculty and Mentors Only.
FRI | APRIL 12
MI-LEND Face-to-Face #6
9:00 a.m - 5:00 p.m | Interdisplinary Training | *Note: For MI-LEND Trainees, Faculty and Mentors Only.
FRI | APRIL 29-30
2019 Issues in Aging Conference
9:00 a.m - 5:00 p.m | Presented by WSU Institute of Gerontology, Alzheimer's Association Greater Michigan Chapter, Michigan Alzheimer's Disease Center (U of M) | Location: Schoolcraft College, VisTaTech Center, 18600 Haggerty Road, Livonia, MI
Partner Events
THUR | APRIL 4
I/DD and Dementia Forum
1:00 - 3:00 PM | Informational Forum Sponsored by the Michigan Developmental Disabilities Council and the 2019 NDSS Adult Summit | Detroit Marriott at the renaissance Center, Detroit, MI
TUES. & WEDS | APRIL 16-17
35th Annual Developmental Disabilities Conference
Two Days | Statewide Conference | Kellogg Hotel & Conference Center, East Lansing, MI
---
MAY, 2019
MI-DDI Events
FRI | MAY 17
MCFARES and the Michigan FASD Task Force Present: Living and Learning with Fetal Alcohol Spectrum Disorders Conference
LANSING , MI | Statewide Conference on Fetal Alcohol Spectrum Disorders (FASD)
Partner Events
WED-THRUS | MAY 1-2
SELF ADVOCACY AT THE CAPITAL, Presented by the Self Advocates of Michigan and the Michigan DD Council
FRI | MAY 3
2019 FINANCIAL INCLUSION AND DISABILITY RESOURCE SUMMIT, Presented by the Wayne Metropolitan Community Action Agency
WED-FRI | MAY 29-31
LANSING CENTER, LANSING, MICHIGAN | The conference theme is "People, Purpose, and Passion: Celebrating Success" to promote and advance statewide collaboration, partnerships, and connections. 
---